Mapping/GIS/System
Mapping, Administration-support GIS, and System development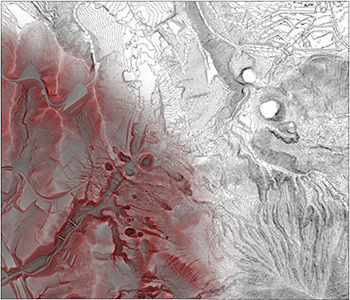 Map-making (Photogrammetric mapping/LiDAR Mapping)
GIS Data Preparation
Red Relief Image Map
3D model Creation and Visualization
LiDAR Data Analysis and Visualization
Administration-support GIS(ALANDIS)
System Development

Mapping System(Digital photogrammetry software)
3DViewer(3D terrain viewer/Point cloud viewer)
Case Studies
Consulting Services including GIS Restructure for Local Government

Shiso City has administrative problems such as duplicated data administration systems, system maintenance, inefficient operations and regional disparities in governmental services. This is because the two merged cities used different mapping methodologies and GIS operations, etc. AAS provides the solution to improve local government service and efficient GIS restructuring based on the analysis of the past GIS specifications and usage. Read more(Japanese version only. ) →
Visualization of Detailed Land Feature by Red Relief Image Map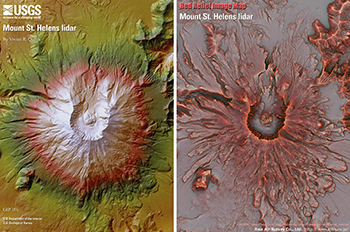 Red Relief Image Map (RRIM) provides a detailed 3D visualization of land surface while neither shaded relief nor contour maps do. Elevation data such as DEM, DSM and contour line can be used to generate RRIM. For example, the RRIM for Mount St. Helens, which is created from the USGS open data, shows detailed land surface.
3D Model Opened by 3D Cloud Viewer "LaVBrowser" after the Kumamoto Earthquake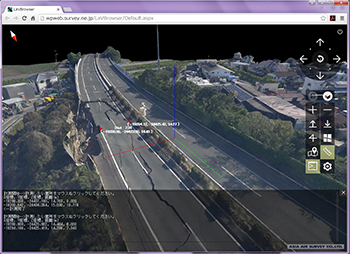 The 3D Cloud Viewer "LaVBrowser" was used to visualize a 3D model, which was created from aerial photographs that were acquired just after the Kumamoto earthquake occurred. This 3D model was opened on our website using 3D Viewer "LaVBrowser" within 24 hours since the flight for aerial photographs. "LaVBrowser" has the function of 3D model display and simply measurement without plug-in, only with internet. The 3D model of Kyushu Expressway shows a collapsed slope face and road crack.